Since we still have moving boxes waiting to be unpacked I felt slightly guilty spending time decorating the mantle for fall. For some reason I never feel guilty neglecting the laundry or the dishes to do a decorating project -hmmm. Anyways, I made do with just a few items that were already unpacked and one new addition from the grocery store.
Also, I felt I had to do something that was picture-worthy because I just bought a new camera. It's a
Canon EOS Rebel T3 12.2 MP CMOS Digital SLR with 18-55mm IS II Lens and EOS HD Movie Mode (Black).
I had been stalking cameras for a while and finally the other day after much prodding from my husband (yeah, sometimes he is an especially great guy) I just hit the order button. I did a lot of research and price checking and like usual amazon had the best price in case you're interested.
So I am really excited and just wanted to take a few pictures before I really sit down and figure out all the new features. Let me know what you think of the picture quality compared to my old pictures. I can tell already just using the auto setting that things are clearer and easier to edit. I can't wait to learn how to do all the complicated stuff with aperture and shutter speed.
Here's the mantle...
You'll recognize the seashell box from this post. Although it's kinda summery I figured as long as my other elements were fall related it would be okay. Besides they have fall at the seashore too.
Can you tell what the filler is? They look like tiny little pumpkins but they are not. I can't remember the name of what they are but anyways I have used them for the past few years and everyone always gets a kick out of them.
I had the wreath, in fact I had 2, because at our old house we had those old fashioned double front doors. Here I have the standard steel door so I used the wreath you see in the sidebar picture which is larger for the front door. This smaller one looks nice just leaning against the seashells.
The pumpkin was the only thing I bought but it is not even real. It is a funkin. It looks super real even close up. It was $5 on sale so I justified that is a good deal that I can use year after year as long as no one takes it off the mantle and runs over it with a skateboard:)
I'll leave you with a few more views...
Oh, and of course I am linking up over at The Lettered Cottage. There's a lot of nice mantles over there so be sure to check them out.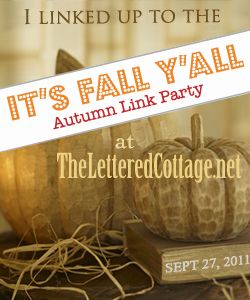 ~ Gold Shoe Girl ~