This is one of those hahaha I can't believe I was actually ahead of Pottery Barn moments. Two years ago I was looking for some kind of small buffet/wine cabinet for our dining room. I found a dry sink that I thought had potential on craigslist. I contacted the seller and went over to her house to take a peek. I liked what I saw and we agreed on $50. However,I had not thought ahead so I only had $20 bills and she didn't have any change. So while we were standing there in her garage I actually had the audacity to say "hey that's a really cute planter would you throw that in and I'll give you $60 for both". She agreed and I brought home the dry sink and the planter.
Just because I know you would want to see it here's the dry sink after I painted it black. I don't have any before pictures but imagine it being that 1950's muddy brown color.
It came with a copper liner which I'm sure is worth more than the rest of the dry sink. I replaced the knobs on the drawer with new handles that better match the copper liner. We use it in our dining room to hold wine bottles and the associated paraphernalia. I use the top shelf to show off seasonal decorations or if we have people over I have set it up as a bar so guests can help themselves. The copper liner keeps all the drips from ruining the wood underneath. It's a really neat little piece and we get a lot of compliments on it.
Now back to the planter. When I brought it home it was white. I hand painted it black because I didn't want it to clash with our house trim which is an antique white and then it would also coordinate with our accent items (lights, house numbers, mailbox, etc) which are black. Then I put in some flower pots and placed it outside on the side porch under the dining room window. I love it. It is the perfect height and it makes it seem like that window has a flower box. Plus it was only $10.
A few weeks ago the newest Pottery Barn catalogue arrived in the mail. Imagine my delight when I saw this picture. Not only did I already have a similar item but mine was $10 versus their $179 version. I had to immediately show my husband because I love having those
see how smart I am to buy things off craigslist
moments.
I wonder if anyone really would pay $180 to get a rusty wire planter. I guess they must or Pottery Barn would be out of business, but I would love to know how many people forked over that much money when I got mine for only $10.
But even better then getting a great deal is that I love sitting at the dinner table on a sunny evening and seeing those pretty flowers right outside the window.
I'm linking up at...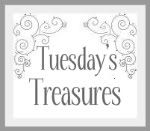 ~ Gold Shoe Girl ~